Netball New Zealand has developed Community Concussion Guidelines and resources to help direct actions, responses and treatment of concussion.
While the incidence of a concussion in Netball is low, it is increasing and these guidelines are important to protect the wellbeing and welfare of our players.
Concussion is a mild traumatic brain injury (mTBI). The highest volume of concussion occurs among those aged 10-19 years old.
Concussion (and player wellbeing and welfare in general) is everyone's responsibility. Players, parents, coaches and officials need to act in the best interests of the player by taking responsibility for recognising, removing and referring to a medical doctor any player who is suspected to have sustained a concussion.
Community Concussion Guidelines
A specific Concussion Policy is needed to direct actions, responses, and treatment of concussion of all Netball players in New Zealand.
These guidelines provide:
Information for coaches, support staff and management to help them prepare for the season/event.
Information on signs, symptoms and protocols involved in concussion.
Facts and figures highlighting the importance of concussion management to protect the wellbeing and welfare of our players.
Information on recognising the symptoms early to ensure treatment and prevent any longer-term consequences.
Download the Community Concussion Guidelines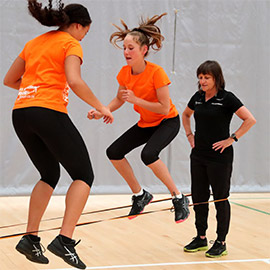 Concussion Management Guide
Ensure the management guide is readily available in all team bags for players and management.
This guide provides:
The steps to take if you suspect a concussion.
Helpful tools to help identify a suspected concussion.
An example of a graduated return to play program that should be led by a medical professional. Highlighting the necessity of a medical clearance prior to returning.
Download the Concussion Management Guide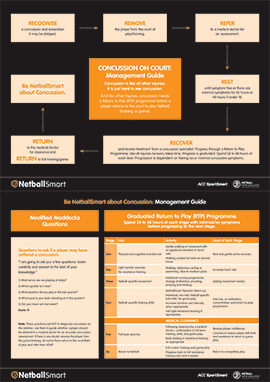 Concussion Poster
This poster provides:
Symptoms to look out for.
Tips on how to help your body rest and recover from concussion.
Tips to keep your head in the game.
Download the Concussion Poster